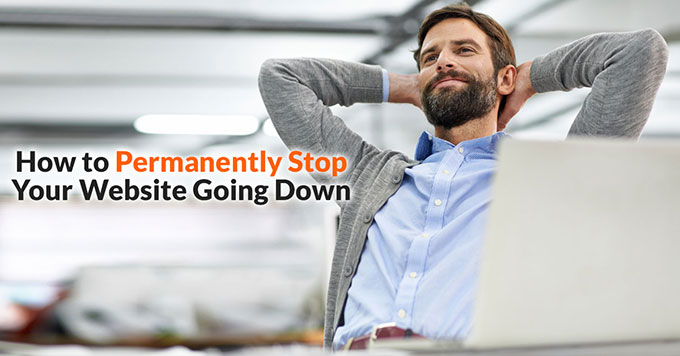 Maybe you're like me and you have a handful of websites that, if they go down, you lose money for every minute they're down.
And it hurts. Bad. Like slamming your small toe into furniture at 10 miles per hour.
Or a kick in the nuts. Over and over.
But it doesn't need to hurt so bad. I've found a nifty little (free) tool that monitors my websites for me so I can fix them quickly or turn off paid advertising when they're down (while my web host fixes my site).
It's called  Uptime Robot and it's totally free to monitor up to 50 (FIFTY!) websites. They send email notifications when your website is down plus they have a nifty app for your phone that beeps annoyingly if your site goes down.
(I used to hear it all the time coz my sites would go down all the time. But not anymore. Keep reading if you want to cure down time permanently…)
Also, you can set it up to email a private inbox of yours that's only for website monitoring. That way you can set up your phone notifications to beep however you like.
Honestly, this little website (and phone app) have saved me thousands of dollars and it's all been for free.
But lately, my websites just haven't been going down anymore and the reason why is because I switched to reliable "WordPress Optimized" hosting that guards my website against downtime.
Here's How HostGator's "WordPress Optimized" Hosting Cures Downtime Permanently:
HostGator now has hosting made specifically for WordPress websites. It's completely different to their "normal" hosting packages and, as a happy customer of this new service, I can tell you it's pretty bad ass. Here's why…
Caching – Your website is always being served from a saved, faster copy known as a "cache". This means that even if your database goes down, people visiting your website won't even know.
Content Delivery Network (CDN) – Your website is spread across multiple servers so that people all over the world always get the closest, fastest version. But that also means that if there's a problem at one location, your website will just be served from a different one.
Updated Plugins & Themes – Your plugins and themes are constantly being updated for you so you never have to worry about hackers getting in through buggy code and you don't have to worry about bad, old code bringing your website down because they keep it all updated for you.
Daily Security & Malware Scans – HostGator will scan your website daily for known security threats and malware. So even if a hacker gets in somehow and leaves some evil code, HostGator will find it and kill it.
Instant Scalability – Expecting a ton of traffic? Depending on the plan you choose, your website can easily scale up to handle the influx of visitors (and sales).
WordPress Specific Support – They've got WordPress experts on standby to help you with your WordPress specific questions and problems.
Daily Offsite Backups – And even if there's a fire or an earthquake in the server room or maybe you just break your website by mistake, HostGator has your website backed up DAILY (in a different geographical location) so it can be up and running again in almost no time.
Downtime is expensive and I'm really glad I don't have to deal with it any more.
If you're sick of losing money because your website is down, I seriously recommend checking out HostGator's new WordPress Optimized hosting: