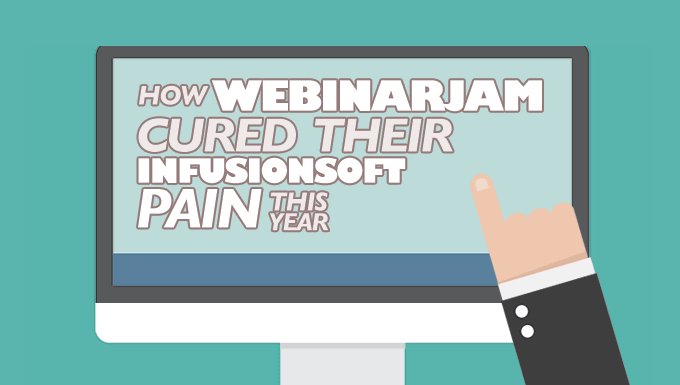 WebinarJam is powerful webinar hosting software used by Internet Marketing Legends like…
Jeff Walker
Frank Kern
Andy Jenkins (co-founder)
Mike Filsaime (co-founder)
Russell Brunson
Eben Pagan
Rich Schefren
Ed Dale
etc
But they had an InfusionSoft problem…
They wanted to fix it so that when someone registered for a client's webinar, they (WebinarJam) could add the contact to InfusionSoft, along with some tags. Same thing when that contact entered the live webinar room, or watched the replay video, etc.
They had a programmer working on the InfusionSoft integration but they were having problems getting it to work. It had been weeks and they had a launch coming up.
Time was running out.
And that's when they called in the big guns. The Tech Assassin.
Hector Yague (admin of WebinarJam) contacted me asking if I could help. InfusionSoft's API is a bit of a walk in the park for me so I said, "Sure!"
6.5 hours of coding later and they had everything they needed from me to make it happen.
Check out the testimonial from Mike in the pic below: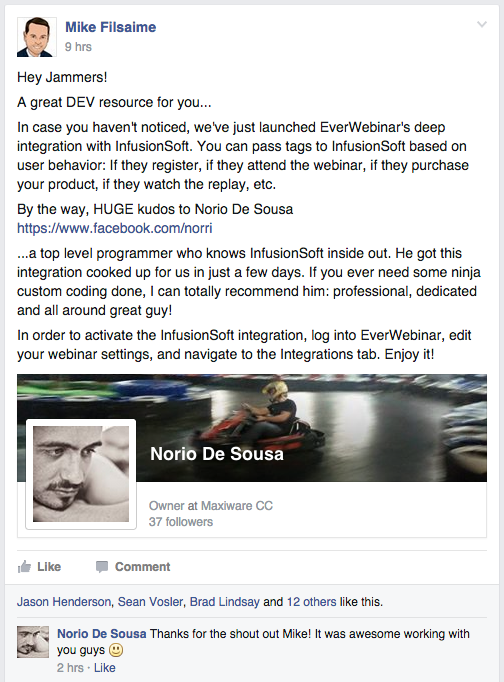 And that's what it's like working with me. You could be struggling with other programmers for days, weeks or even months but all it takes is an email to a Tech Assassin and your problem can be solved. Your launch can go ahead smoothly and on-time and you can go back to making money.
Stop struggling with other programmers. Contact me now to get shit done.